Resiblock Sealer chosen for Prestigious Housing Development
21st June 2018
---
Resiblock Sealer chosen for Prestigious Housing Develoment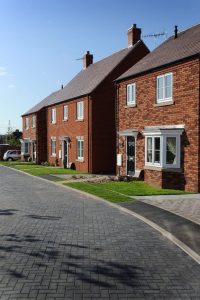 During the Summer of 2017, John O'Flynn Developments utilised Resiblock's 'Legendary' (as referred to by pavingexpert.com), Resiblock '22' joint stabiliser, to stabilise and protect paving at a prestigious housing development in Oxfordshire.
Situated in Didcot, Oxfordshire, Bloor Homes used circa 1600m² of Charcoal-coloured Concrete Block Paving (CBP) as the roadway for this newly developed estate of 154 homes, namely, The Greenway.
As such, Resiblock '22' was recommended as the sealer of choice, as it's sand stabilisation capabilities will prevent paving failure induced by sand loss, caused by the constant trafficking of the area, environmental elements and cleaning regimes.