Prevent Paving Failure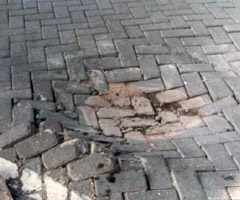 This image illustrates Paving Failure on an area of concrete block paving installed over a DTp Type 1 sub-base.
Water has penetrated the paver joints and has become trapped in both the sub-base and the sand laying course material. Subsequent trafficking has led to the deformation.
Once saturated, both the sub-base material and the laying course material lost stability and proved insufficiently stable to support traffic.
The deformed surface is typical of concrete block paving in which the granular sub-base material has failed. The original sub-base material probably had a CBR of 40% to 60% and this would have been reduced to less than 5% in the saturated condition. Also, the laying course material has pumped to the surface and is now evident in the ruts.
The pavers have cracked as a result of the surface deformation. Pavers are installed "hand tight" and are normally able to accommodate small elastic deflections and permanent deformations without deterioration. In our experience, once deflection or deformation exceeds 10mm, breakage of the pavers is likely. In this instance, deformation was of the order of 50mm, hence the breakage. The ring circumscribing the depression represents the edge of circumference of the water which stood in the deformed area.
A quick note on insurance claims: you can prevent your concrete block paving failure with RESIBLOCK sealers which, in turn, helps you to avoid the cost of repairing cracked paving and even handling insurance claims – uneven paving stones cause trips and pavement accident claims are well documented so protect the paver joints and stop water penetration before it can happen.
We have numerous Case Studies, where projects have successfully benefited from long term paver stabilisation, resulting in significantly reduced maintenance, and reduction of whole life cost.
Resiblock, Europe's leading company specialising in providing solutions for the stabilisation of small element flexibly laid paving, has two decades of experience at airport and port side pavements. Resiblock's wealth of expertise and knowledge is now generally recognised as the most definitive in its field.