Resiblock on the Way to Wembley
21st June 2018
---
Resiblock on the Way to Wembley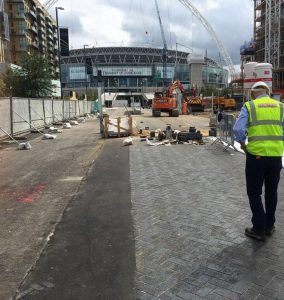 Pele called it the "Cathedral of Football", Bobby Moore lifted the 1966 World Cup here, it has played host to legends such as Bobby Charlton, Franz Beckenbauer and Diego Maradona, and now it is Resiblock who are sealing their success at 'The Home of Football' – Wembley Stadium.
Two sealers from the Resiblock Commercial range were identified, to cater for sealing a trio of different pavers types on Olympic Way at Wembley Stadium. Resiblock '22' was selected to stabilise the 1430m² of Marshall Tegula Concrete Blocks and 1710m² of Ketley Blue Clay Blocks.
Meanwhile Resiblock '22' A.F (Architectural Finish) was chosen for the 788m² of Marshalls Tarvos Granite Blocks for its high level of stain protection and UV resistance.
Volker Fitzpatrick, through their sub-contractors Lorclon and under the guidance of Resiblock, are now installing both Resiblock '22' and Resiblock '22' A.F to the Olympic Way site with works expected to be completed in early 2018.