Main Street, Gibraltar made 'Rock' solid with Resiblock Resifix
21st June 2018
---
Main Street, Gibraltar made 'Rock' solid with Resiblock Resifix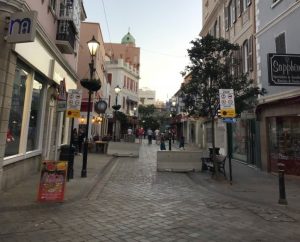 In 2015, as part of HM Government of Gibraltar manifest commitments, the reparation of paving joints on Main Street was ordered. Following the previous two years of extensive trials, Resiblock Resifix Commercial was selected as the best product to prevent accidents on Gibraltar's busiest street, mainly due to its ability to solidify the large joint widths associated with Cobbled Paving Blocks.
As a self-binding jointing sand, Resiblock Resifix Commercial expands to the size of the joint once activated by water, to create a flexible polymeric adhesive.
Having made their presence felt in Gibraltar by sealing Catalan Bay Road leading to Our Lady of Sorrows Church with Resiblock '22', Resiblock have continued their partnership with Gibraltar by supplying Resiblock Resifix Commercial for Main Street Repairs. Extensive testing took place in 2014, resulting in the first order for initial phases in 2015 and 2017 and now the most recent phase in 2018.