RLP Container Terminal, Qatar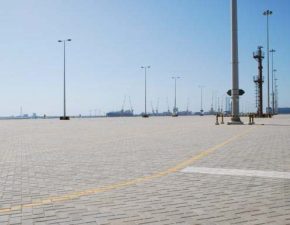 Site:
Totalling some 232,000m² of concrete block paving and encompassing a container terminal, container berths, container yard and access roads. Paver installation was completed in 2013.
Challenge:
Immediately following installation, problems were encountered with significant loss of jointing sand carried by crosswinds across the peninsular leading to paver de-stabilisation. The Contractor CCC is the largest construction company in the Middle East and ranks among the top 20 International Contractors with projects and offices in more than 40 countries. CCC sought Royal Haskoning'sDHV's expert assessment on the matter as specialised third party Consultants. Royal HaskoningDHV recommended the application of a Resiblock jointing sand stabiliser to prevent the loss of jointing sand thereby maintaining interlock and structural stability. As paver sealing/stabilising was a new concept to CCC, it diligently sought out other like or similar products via its presence in over 40 countries culminating in trials of more than twelve different products, inclusive of Resiblock. Trials/testing were concluded in December of 2013 with CCC commenting to its client Qatar Petroleum, 'we have no hesitation in selecting and offering Resiblock for application to this project, it has clearly significantly out-performed its competitors, in addition Resiblock's knowledge of flexibly laid paving far exceeds the others'.
Application took place during June/July 2014 with Resiblock on site during initial application and at completion. CCC application was in strict accordance with Resiblock application instructions/method statement resulting in the correct spread rate and application with a uniform depth of penetration ensuring good long term stabilisation.
Solution:
Resiblock '22' WB is polyurethane/acrylic hybrid water based low viscosity jointing sand stabiliser. Its function to bind the particles of sand together and to the vertical faces of the paving, remaining flexible, but preventing jointing sand loss or unwanted liquid infiltration from either natural or manmade forces.
Resiblock '22' WB Benefits:
One pack material
Prevents sand erosion from both natural and manmade forces i.e. wind, water, trafficking, cleaning regimes
Prevents water ingress via joint
Solvent Free
Remains flexible, accommodates small elastic deflections
Case Study
Project name: RLP Container Terminal, Qatar
Client: Qatar Petroleum
Contractor: Consolidated Contractors Company (CCC)
Area: 232,000m²
Paver type: Concrete Block Paving
Product/s: Resiblock '22'
Date: July 2014