Pudding Mill Lane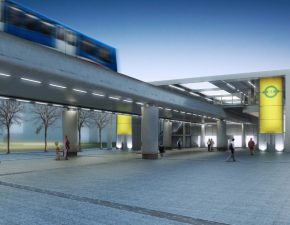 The Site
Pudding Mill Lane was opened on 15 January 1996. Previously this location had been a simple passing point for trains on the otherwise single-tracked section between Stratford and Bow Church.
The name of the station is taken from the nearby Pudding Mill Lane which, in turn, takes its name from the former Pudding Mill River, a minor tributary of the River Lea.
As part of the £87million Crossrail Link development project, 3000m2 of Concrete Slabs, in sizes of 600x300mm and 600x600mm, were laid at the station. Pudding Mill Lane is recognised as one of the busiest stations on the Dockland Light Railway (DLR), due to being one of the key transport links to the London Olympic Stadium home of English Premier League football club West Ham United.
The Challenge
With around 750,000 people a year using Pudding Mill Lane, concern was expressed about jointing sand erosion and paver de-stabilisation to the Stations concrete flag paved areas, due to large volumes of footfall traffic. Cleaning regimes (ranging from pressure washing to vacuum sweeping) and environmental elements, were also concerns that were raised by Morgan Sindall.
The Solution
Resiblock Resiecco was specified by Morgan Sindall as the product to be used due to its historical success at Manchester United Football Club and The 02 Arena, where concerns about large amounts of footfall traffic were also high priority. Resiblock Resiecco had also proven itself at these sites to be extremely effective in the prevention of weed growth and the provision of high levels of stain protection.
Benefits at a Glance:
One pack material
Prevents sand loss from cleaning regimes
Inhibits the growth of weeds and grasses in the joints
Virtually eliminates residual staining from chewing gum
Maintains structural stability
Case Study
Project name: Pudding Mill Lane
Client: Morgan Sindall
Contractor: J McCann & CO Ltd
Project: Pudding Mill Lane
Area: 3000m2
Paver type: Concrete Flags- 600x300mm                                600x600mm
Product/s: Resiblock Resiecco
Date: November 2016