Sir Matt Busby Way, Manchester United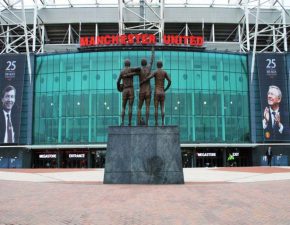 Site:
2011, an important year for Manchester United Football Club. It saw the celebration of Sir Alex Ferguson's 25 year service to the club and the repaving of Sir Matt Busby Way and of its main entrance, comprising 4,200 m2 of small element, flexibly laid clay blocks from Wienerberger and flag paving from Marshalls PLC.
Challenge:
Concern was expressed with regard to the erosion of jointing sand from the cleaning regimes, i.e. pressure washing and vacuum sweeping, leading to paver destabilisation and ultimately paving failure and associated increased maintenance costs. In addition, the significant staining from the 3 million pedestrians visiting the club annually.
Solution:
Resiblock Ltd was consulted, culminating in the installation of its product Resiblock Resiecco, a single pack, specialist, water based paving sealer which stabilises the jointing sand, preventing its erosion from heavy duty cleaning regimes, whilst providing significant stain protection to the surface of the paving. Once cured, it remains fully elastomeric thereby accommodating the small elastic deflections incorporated with the pavement design.
Resiblock Resiecco Benefits:
Prevents jointing sand erosion from cleaning regimes and trafficking
Significantly reduces staining by food and drink
Virtually eliminates residual staining by chewing gum oils
Inhibits the growth of weeds and grass in joints
Environmentally friendly – solvent free
Case Study
Project name: Sir Matt Busby Way, Manchester United
Client: Sir Matt Busby Way
Contractor: English Landscapes
Area: 4,200m2
Paver type: Clay Block Paving/Flag Paving
Product/s: Resiblock Resiecco
Date: July 2011