A.E Mackintosh Cleaning Services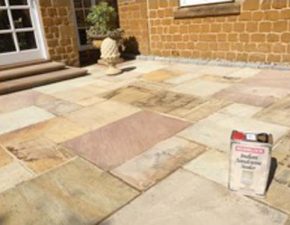 A.E Mackintosh Cleaning Services are leading providers in the cleaning solution industry, offering their services across Nottingham and the surrounding areas. They work closely with the team here at Resiblock and the below example was sent in by Ashley Mackintosh as an entrant to our 2016 Resiblock Sealing Awards.
After a sensational cleaning job, which can be shown in the pictures below, Ashley at A.E Mackintosh Cleaning Services used the popular and effective Resiblock Indian Sandstone Sealer Invisible product due to the fact that his customer was already happy with the colouring of the Indian Sandstone Slabs which were previously installed and laid.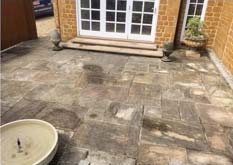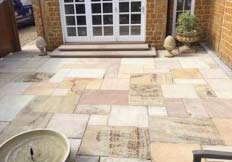 Winner of Resiblock Sealing Awards 2016
As a close contender in the 2016 Resiblock Sealing Awards, it was announced that A.E Mackintosh Cleaning services were named winners of the Natural Stone category.
On this particular sealing job, Managing Director at Resiblock – Paul Lamparter explained: "We thought that Ashley's use of our Resiblock Indian Sandstone Colour Invisible product really allowed the 'natural' look of the Indian Sandstone Slabs to shine through. It is great to see that Ashley has continued to maintain such a high level of excellence in his work."
Indian Sandstone Sealer Invisible Product
Our Indian Sandstone Sealer Invisible is one of the most popular products that we offer at Resiblock. It can be used on Indian sandstone along with other types of natural stone and is specifically designed to form and act as an invisible seal. This 'seal' feature will ensure that the paving is protected from external debris, severe weather conditions and any possibly stains that may occur over an extended period of time.
Benefits of Our Indian Sandstone Sealer Invisible Product
Over the years, our products have become increasingly popular due to the many benefits they offer when applied to paths, driveways and patios. Some of the main advantages include:
Resistance to any possible stains
Once applied, the product dries to an invisible finish
Resists algae growth
Only requires one application
Long-lasting – up to 5 years
Can be applied to various types of natural stone
Application of Indian Sandstone Sealer Invisible
In order to receive the desired finish when applying Resiblock products, there are several factors which should be considered before. Getting the application process right is crucial and with the help of our paving specialists, this shouldn't be a problem! Here are a few of our tips and tricks we recommend following:
Don't apply if rain or severe weather conditions are forecast in the next 8 hours.
Ensure the surface is clean, dirt free and dry.
Apply the sealant using a quality roller.
Shop our Resiblock products today from the world's favourite paving sealer company!
Case Study
Project name: A.E Mackintosh Cleaning Services
Client: Resiblock
Contractor: A.E.Mackintosh Cleaning Services
Paver type: Indian Sandstone Slabs
Product/s: Indian Sandstone Sealer Invisible
Date: September 2017