Wood Wharf, Canary Wharf, London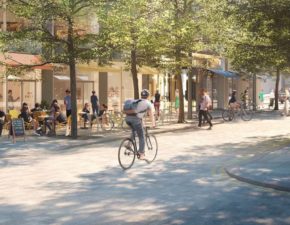 The Site
As Canary Wharf's newest district, Wood Wharf has been designed to provide a new residential led, mixed use, waterside community defined by the quality of its public spaces and its exemplary architecture. The development will broaden and extend the Canary Wharf Estate, adding to its vibrancy and continually expanding its cultural, community and commercial aspects.
The Challenge
With such a large mixed-use area being created within the heart of Canary Wharf, the client was keen to ensure that the paving would be able to stand up to a variety of challenges. This included prevention of paver destabilisation through heavy footfall traffic, vehicular use and the prevention of sand loss through mechanical cleaning regimes.
The Solution
The success at Main Street, Gibraltar allowed Resiblock to demonstrate the effectiveness of Resiblock Resifix Commercial in a mixed-use environment. With Main Street acting as the central hub of the British Overseas Terriotry, Resiblock were able to show the client how Resifix Commercial would withstand the effects against both high volumes of footfall, vehicular trafficking and cleaning regimes. Moreover, Resiblock were able to demonstrate the effect of Resifix Commercial on the pavers themselves, as similar Granite Slabs were used at The National FA Academy, where Resiblock had been successfully installed seven (7) years previously.
Benefits at a Glance:                                                                        Related Projects:
One pack material
Inhibits the growth of weeds and grass in joints                     · Main Street, Gibraltar
Sweeps in like jointing sand
Simply activate with the addition of water                               · National FA Academy,
10 times faster to install than traditional pointing methods      St Georges Park
No effect on the colour of the paving
Environmentally friendly                                                             · Kingsway Regeneration, Swansea
Case Study
Project name: Wood Wharf, Canary Wharf, London
Client: Canary Wharf Group PLC
Contractor: In-Ex Landscapes
Site: Wood Wharf, Canary Wharf, London
Project: Wood Wharf Phase One
Area: 4,000m²
Paver type: Silver Grey Granite Slabs
Product/s: Resifix Commercial
Date: August 2019