Station Approach, Solihull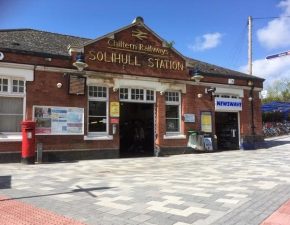 The Site
The original Solihull station was opened in 1852, by the Great Western Railway on their London Paddington to Birmingham and Birkenhead main line. Recent investment by Chiltern Railways has seen rail times into London reduced to under 90 minutes, and as such 1.884 million passengers used Solihull Station in 2016/17. Station Approach forms the final part of the £2.3 million 'Solihull Gateway' project.
The Challenge
As the final part of the 'Solihull Gateway' project, Station Approach enabled full pedestrianised access between Solihull Town Centre and Solihull Station. Due to the large amounts of expected footfall traffic in the area, Solihull MBC were keen to stabilise the sand joints of the paving to ensure that de-stabilisation of the pavers would not occur. Furthermore, with many restaurants in Solihull Town Centre, and a café inside Solihull Station, prevention against food staining was also a key challenge.
The Solution
Having been used in two previous parts of the Solihull Gateway project, Resiblock were consulted which of Resiblock Commercial Range of Sealers would be suitable for the Station Road. Due to the aggregate-topped design of the Tobermore Fusion Paver, Resiblock recommended its product Resiblock Resiecco. Resiblock Resiecco has proven success with coping with large amounts of footfall traffic having comfortably handled over 80 million people over the past 10 years at the 02 Arena, and still going strong. Resiblock was also installed on paving at both Solihull Gateway, the area which connected Station Road, Poplar Road and the High Street (Resiblock Resiecco), and the Waitrose Store on Homer Road in Solihull (Resiblock '22'), Solihull MBC knew they could trust the performance of Resiblock.
Benefits at a Glance:
One pack material
Prevents sand loss from vigorous daily cleaning regimes
Environmentally friendly – solvent free, can be used internally.
Virtually eliminates residual staining from chewing gum
Gives resistance against food stands
Maintains structural stability
Case Study
Project name: Station Approach, Solihull
Client: Solihull Metropolitan Borough Council
Contractor: Kelbec Civil Engineering
Site: Station Approach, Solihull
Project: Station Approach
Area: 2,500m²
Paver type: Tobermore Fusion CBP
Product/s: Resiblock Resiecco
Date: June 2018