Solihull Gateway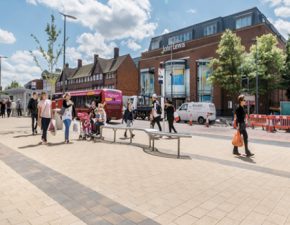 The Site
Located in the centre of England, Solihull is at the heart of the national rail and motorway network on the southern edge of the West Midlands Conurbation, between Birmingham and Coventry. The town is noted for its historic architecture, which includes surviving examples of timber framed Tudor style houses and shops.
The Challenge
The paving bedding layer material had not performed as required under loading at the junction of Station Road, Poplar Road and the High Street. This under-performance led to a loss of sand from the joints and destabilisation of the paving and thus needed to be replaced with an alternative higher grade bedding material to prevent the same problem happening again. Balfour Beatty were also looking for a surface solution to prevent sand loss and prevent re-occurring destabilisation while also providing protection to the blocks themselves.
The Solution  
It was decided that the block paving would be lifted, re-laid and Resiblock '22' applied to the new paving to provide stain protection and stabilisation of the sand filled joints. Resiblock '22' utilises a simplistic application, which will prevent water and fuel infiltration via the joint whilst preventing sand erosion and in turn promotes good interlock within the system, preventing paving failures i.e. rutting and deformation from heavy duty trafficking.
Benefits
Easy application that requires no specialist labour. Resiblock 22' binds the jointing sand preventing its removal from both natural and manmade forces. It will inhibit weed and grass growth from the joint whilst providing a significant degree of stain protection. Once cured, it remains fully elastomeric thereby accommodating the small elastic deflections incorporated in the pavement design.
Benefits at a Glance:
One pack material
Easy application
Prevents sand erosion from paver joint
Prevents the ingress of water and fuel infiltration to the sand laying course
Maintains structural stability under heavy duty trafficking
Elastomeric bond works in tandem with paver system
Case Study
Project name: Solihull Gateway
Client: olihull Metropolitan Borough Council
Contractor: Balfour Beatty Living Spaces
Site: Poplar Road/Station Road/ High Street
Project: Solihull Gateway
Area: 500m²
Paver type: Tobermore City Space VS5
Product/s: Resiblock '22'
Date: August 2006