Sidney Street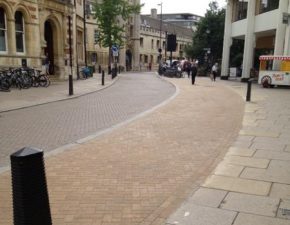 Sidney Street is home to a popular shopping centre which is located in the City of Cambridge. It runs directly through a long strip of high-street shops, in which the Yorkstone flag paving is subject to a high amount of HGV traffic during the evening and early morning delivery windows. Due to the sheer amount of weight and force being placed upon the lateral loads, the materials failed to withstand this pressure, leading to tripping hazards and causing danger to those visiting the shopping centre.
The Challenge
Marshalls is an external landscaping, interior design, paving and flooring specialist who we work closely with to complete professional installation of our paving sealant. After reviewing the area surrounding Sidney Street, the plan of action was decided. We chose to re-lay a proportion of the existing footpath with standard concrete block paving, which would successfully withstand the constant flow of HGV traffic.
However, one of the main issues we picked up was the potential threat of existing mechanical cleaning regimes and how this pressure would remove the jointing sand, causing the paving stones to destabilise and become unsteady.
The Solution
During a Resiblock CPD presentation to the Cambridge CC highways team and representatives from their term contractors, Atkins Global it was decided that the application and installation of Resiblock 22 (a specialist pre-polymer urethane jointing sand stabiliser) would guarantee no sand loss to paving joints. Resiblock 22 is one of our leading products which we recommend for a variety of different paving destabilisation projects.
Benefits of Our Resiblock 22 Product
There are many benefits of Resiblock 22, which is important to understand in order to make the most out of the installation. One of the main advantages is its ability to prevent the growth of weeds and grass through the paving joints. After being installed correctly, this will deter weed growth in the future, transforming the aesthetic of the paving.
Once the sealant has settled into the joints, Resiblock '22' will also provide the paving with protection from possible debris, stains and general use from the public.
Useful benefits:
Easy application and installation.
Prevents sand loss and destabilisation to paving.
Once installed, future weed growth is inhibited.
Virtually eliminates residual staining from chewing gum.
Maintains structural stability.
Case Study
Project name: Sidney Street
Client: Cambridge CC / Atkins Global
Contractor: In-house
Site: Sidney Street, Cambridge
Project: Sidney Street
Area: 1,200m²
Paver type: Concrete Block Paving
Product/s: Resiblock '22'
Date: June 2013