Owlcoates Shopping Centre, Asda, Pudsey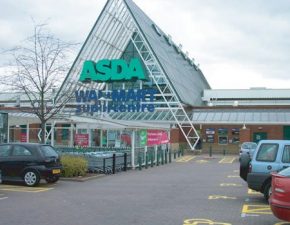 Owlcoates Shopping Centre, West Yorkshire, is located within a quaint market town known as Pudsey. As a highly popular attraction for many residents within the Pudsey area, the amount of cars parking in the car park situated directly outside the Owlcoates building and next to Asda had significantly increased.
The Challenge
Before we begin any project at Resiblock, we always examine the issue at hand, and find a suitable solution which will resolve the problem. As one of the more recognised names in the Supermarket industry, Asda car parks (the car park situated directly outside Owlcoates Shopping Centre) are subjected to large amounts of vehicular traffic on a daily basis.
Over time and after several years of continuous use, the heavy load of vehicles contributed to the cause of jointing sand erosion, which unfortunately resulted in rutting and paving destabilisation to the entire car parks' surface area. Our team at Resiblock took all this information on board and proposed an effective solution which would prevent future erosion to the paving.
Our Solution
The paving specialists at Resiblock have years of experience in solving issues that sand erosion can cause. For this specific project, we advised the use of our award-winning product – Resiblock '22'. We recommended the installation of this Resiblock product because it has the ability to eliminate paving problems, by permanently locking in the jointing sand and preventing possible erosion whilst maintaining its flexural qualities.
At Resiblock, we work closely with Registered Contractors who are specialists in the installation of our paving sealants. Houseman & Falshaw – a registered contractor for Resiblock professionally lifted and re-laid the paving in August 2004, installing Resiblock '22' with minimum fuss. During the installation process, the sealant material is applied to the surface and joints of the blocks with a watering can and any surplus is carefully removed with a squeegee.
What is Resiblock '22'?
Resiblock '22' is a specialist prepolymer urethane (SPPU) and is a popular choice of paving sealant in the UK. It prevents the erosion of jointing sand and reduces the chance of future destabilisation. Some of the main benefits of this paving sealant include:
Jointing sand stabilisation
Prevention of sand erosion
Maintains good interlock
Prevents water/fuel infiltration
Completion
Whilst completing the installation of our Resiblock '22' to the Owlcoates car park, the areas being sealed were carried out in controlled and cornered-off sections, whilst other areas remained open to the general public. We aim to complete our work causing very little disruption to the site.
Case Study
Project name: Owlcoates Shopping Centre, Asda, Pudsey
Client: Asda
Contractor: Houseman & Falshaw
Site: Asda, Pudsey, West Yorkshire
Project: Owlcoates Shopping Centre
Area: 700m²
Paver type: Concrete Block Paving
Product/s: Resiblock '22'
Date: August 2004