Mr Bob Epton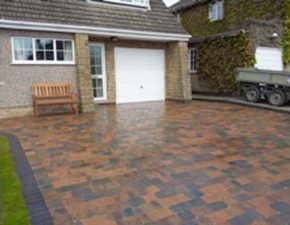 "May I offer an 'outstanding service' letter for a change?"
Following the installation of a new driveway, Mr Epton utilised a contractor to apply the Resiblock Superior Matt product.
However, application methods were not followed correctly and it left the driveway with a poor aesthetic finish 'with footprints and lumps of sand' (bottom left image).
Mr Epton contacted our Technical team who were able to guide him through the rectification and resealing works. Once the correct application methods were followed by Mr Epton himself, the finished driveway was much more in line with what Mr Epton was hoping for.

Mr Epton very kindly sent in a letter to The Observer newspaper thanking Resiblock for the help provided. In a letter title "May I offer an 'outstanding service' letter for a change?" Mr Epton said: "I contacted the manufacturer for advice and was sent a copious analysis of what had gone wrong and suggestions on how to rectify the worst affected areas.
"The manufacturer's determination to help out a disappointed customer at the highest level."
(Photo's provided by Mr Bob Epton)