Beverley Saturday Market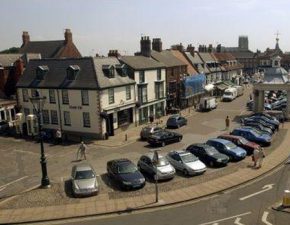 The Site
Beverley Saturday Market can be traced back to the 12th Century and remains a thriving market town. Post years of continuous repairs to the paving the area had become very shabby and resembled a patchwork quilt. East Riding of Yorkshire CC invested £2.5m in replacing the cobbles and unsightly tarmac with various CBP and replaced the damaged Yorkstone paving flags.
The Challenge
This market is the most heavily used area in East Riding being both trafficked and subject to heavy footfall. It was recognised at the planning stage that these factors and the proposed cleaning regimes would serve to remove the jointing sand leading to paver destabilisation and tripping hazards.
The Solution:
Resiblock 22 was specified, a one pack moisture cured specialist pre-polymer urethane paving sealer. It can be utilised to prevent jointing sand erosion in the most arduous of circumstances including jet thrust from aircraft movement on aprons.
Benefits:
Easy application, requires no specialist labour; Resiblock 22 binds the jointing sand preventing its removal from both natural and manmade forces. It will inhibit weed and grass growth from the joint whilst providing a significant degree of stain protection. Once cured, it remains fully elastomeric thereby accommodating the small elastic deflections incorporated in the pavement design.
Benefits at a Glance:
One pack material / Easy application
Prevents sand loss from cleaning regimes
Inhibits the growth of weeds and grasses in the joints
Virtually eliminates residual staining from chewing gum
Maintains structural stability
Significantly reduces maintenance costs
Case Study
Project name: Beverley Saturday Market
Client: East Riding of Yorkshire C.C.
Contractor: Galliford Try
Site: Beverley, East Riding of Yorkshire
Project: Beverley Saturday Market
Area: 6,500m²
Paver type: Concrete Block Paving & Yorkstone Paving Flags
Product/s: Resiblock '22'
Date: April 2013