Aldi Store, Caerphilly Road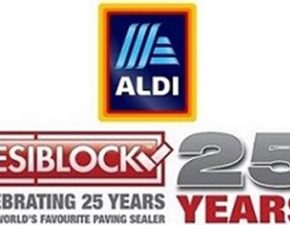 The Site
The new Aldi store on Caerphilly Road in Birchgrove, Cardiff was commissioned to be built in October 2017, at the former Electrocoin factory and Texaco petrol station site. Plans for the multi-million-pound store on the former Phoenix estate, were submitted in the July of 2017, and were accepted after a report by planning officers stated: "The amended building design and site layout is of good quality and, together with a landscaped public space at the site frontage, will create a distinctive place." The store is due to open in late 2018.
The Challenge
With Aldi being one of the most popular supermarket chains in the UK, and the 2018 'Which' Supermarket of the Year, large amounts of footfall traffic are expected on the run-up to the entrance to the store, and around the Supermarkets trolley bay. The Aldi property development team wanted to protect the external paving to ensure low-maintenance and long-term stain protection.
The Solution
Having first been specified to seal in Aldi store in the mid-2000's, Resiblock and the commercial product Resiblock Resiecco have now been used at over 30 Aldi stores across the UK. This includes stores in The Isle of White, Leamington Spa, Oldham, Preston, Norwich, Swindon, Liverpool and  Blackburn.
Resiblock Resiecco is a specialist one pack water-based paving sealer which stabilises the jointing sand, preventing its erosion from heavy duty cleaning regimes, whilst providing significant stain protection to the surface of the paving.  Once cured, it remains fully elastomeric thereby accommodating the small elastic deflections incorporated with the pavement design.
Benefits at a Glance:
One pack material
Prevents sand loss from vigorous daily cleaning regimes
Environmentally friendly – solvent free, can be used internally.
Virtually eliminates residual staining from chewing gum
Gives resistance against food stands
Maintains structural stability
Case Study
Project name: Aldi Store, Caerphilly Road
Client: Aldi UK Ltd
Contractor: JB Construction 1
Site: Aldi Store, Caerphilly Road, Cardiff
Project: Aldi Store, Caerphilly Road
Area: Store Entrance & Trolley Bay
Paver type: Marshall Conservation Pavers
Product/s: Resiblock Resiecco
Date: June 2018