Wimbledon Masterplan – Gate 20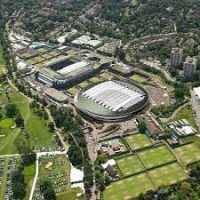 The Site
As Part of the Wimbledon Master Plan, renovations to Gate 20 of the All England Lawn Tennis & Croquet Club (AELTC) began in November 2020 ahead of the return of the Wimbledon Championships. The development of Gate 20 included the relocation of the two-storey media building and installation of a new Technical Services Room.
Problem
With around 500,000 people attending the Wimbledon Championships each year in just a 13-day period, The AELTC were keen to ensure that the new concrete block paving was protected around Gate 20. Heavy Duty media vehicles also posed a threat to the stabilisation of the sand joints.
Solution
The AELTC had previously worked with Resiblock, following the installation of the Resiblock Resiecco sealer in March 2012 during paving regeneration works. As such, The AELTC were swift to specify the use of Resiblock in the Gate 20 Project. Resiblock Resiecco stabilises sand joints ensuring that paving does not become de-stabilised under the weight of large volumes of footfall traffic.
Benefits
Stabilisation of the joint notwithstanding cleaning regimes and trafficking whilst imparting the following additional benefits:
Prevents jointing loss from cleaning regimes & heavy footfall
Significantly reduces staining by food and drink
Virtually eliminates residual staining by chewing gum oils
Inhibits the growth of weeds and grass in joints
Environmentally friendly – solvent free
Case Study
Project name: Wimbledon Masterplan – Gate 20
Client: All England Lawn Tennis & Croquet Club
Contractor: JP Dunn Construction
Site: Wimbledon, SW19
Project: Wimbledon Masterplan - Gate 20
Area: 800m²
Paver type: Concrete Block Paving
Product/s: Resiblock Resiecco
Date: April 2021