Widnes Railway Station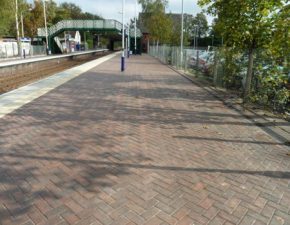 The Site
Originally known as Farnworth, built in 1873 now has the status of an English Heritage Grade II listed building. To raise the stations aesthetics, the entire platform was paved in concrete block paving replacing the existing unsightly Tarmacadum surface.
The Challenge
It was recognised that cleaning regimes would serve to remove the jointing sand leading to paver destabilisation. In addition weed growth on the periphery of the platform would require constant removal.
The Solution:
Resiblock 22 was specified, a one pack moisture cured specialist pre-polymer urethane paving sealer. Also utilised on Aircraft Aprons to prevent jointing sand erosion from aircraft movement.
Benefits:
Easy application, requires no specialist labour; Resiblock 22 binds the jointing sand preventing its removal from both natural and manmade forces. It will inhibit weed and grass growth from the joint whilst providing a significant degree of stain protection. Once cured, it remains fully elastomeric thereby accommodating the small elastic deflections incorporated in the pavement design.
Benefits at a Glance:
One pack material
Prevents sand loss from cleaning regimes
Inhibits the growth of weeds and grasses in the joints
Virtually eliminates residual staining from chewing gum
Maintains structural stability
Easy application
Case Study
Project name: Widnes Railway Station
Client: Network Rail
Contractor: J Murphy & Sons Ltd
Site: Widnes Railway Station
Project: Widnes Railway Station Platforms
Area: 1,000m²
Paver type: Marshalls Keyblock
Product/s: Resiblock '22'
Date: September 2011