Waltham Cross, New Town Centre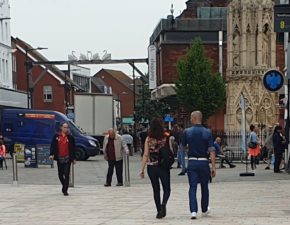 The Site
In January 2019 works started for Broxbourne Council to transform the vehicle turning areas south of the Eleanor Cross Monument into a high-quality family friendly town square. The works form part of the major regeneration programme for the area which will help tell the story of Queen Eleanor's funeral procession in 1290, from Lincoln to her final resting place in Westminster Abbey.
The Challenge
With the area to be used for both Community Events and Specialist Markets, the key challenges for Broxbourne Council were to ensure that a sealer was selected that would provide long term protection of the pavers, prevention of sand erosion which would lead to paver destabilisation as well as food and stain protection.
The Solution
Following rigorous testing against other competitors in the market, Resiblock Ultra Matt batted away the competition by outperforming the rest in all of the council's criteria. Resiblock were also able to show the previous success of Resiblock Ultra Matt, following the successful sealing works of sites such as Silver Street for Leicester City Council and Disneyland Hong Kong. 
Benefits at a Glance:
One pack material
Prevents sand erosion from paver joint
Prevents the ingress of water and fuel spillage to sand laying course
Maintains structural stability under heavy duty trafficking
Elastomeric bond works in tandem with paver system
Case Study
Project name: Waltham Cross, New Town Centre
Client: Broxbourne Council
Contractor: Danaher & Walsh
Site: Waltham Cross, New Town Centre, South of Eleanor Cross Monument
Project: Waltham Cross, New Town Centre
Area: 1,850m²
Paver type: Granite Block Paving
Product/s: Resiblock Ultra Matt
Date: July 2019