Waitrose, Solihull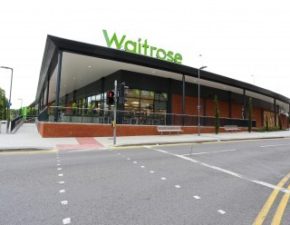 The Site
Solihull's new Waitrose store on Homer Road opened to the public on 23rd June 2016. The store is the fifth Waitrose in the country to feature a sushi counter, which is manned by skilled sushi chefs who will prepare fresh products in front of customers throughout the day. The shop includes meat and fish counters, and a café bar with indoor and outing seating.
The Challenge
Whilst aesthetically pleasing this type of textured paver pavement can often be blighted by staining from food, chewing gum, drinks etc. and weed and grass growth from within the sand filled joint.  Sand erosion from industrial cleaning regimes (pressure washing, vacuum sweeping etc), resulting in paver de-stabilisation and possible trip hazards was also a major concern.
The Solution
Upon construction of the paving the simplistic application of Resiblock Resiecco provided excellent stain resistant qualities whilst stabilising the jointing sand preventing its removal from both pressure washing and vacuum sweepers.
Benefits
Simplistic application requiring no specialist labour, imparting excellent stain resistant qualities to the paver surface whilst stabilising the jointing medium preventing its erosion from cleaning regimes.
Benefits at a Glance:
One pack material
Prevents sand loss from cleaning regimes
Inhibits the growth of weeds and grasses in the joints
Virtually eliminates residual staining from chewing gum
Maintains structural stability
Case Study
Project name: Waitrose, Solihull
Client: Waitorse
Contractor: MacDermott Building & Civil Engineering
Site: Waitrose, Homer Road, Solihull
Project: Waitorse, Solihull
Area: 600m²
Paver type: Tobermore Mayfair Textured Concrete
Product/s: Resiblock Resiecco
Date: June 2016