Van Der Vlist Car Park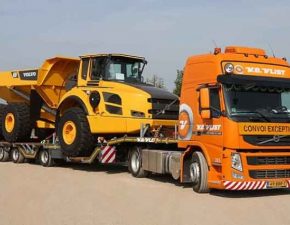 The Site
A new 250m2 Concrete Block Paved Car Park was installed for the employees of the Van der Vlist Heavy Haulage Company. This new parking facility is part of a wider 3000m2 expansion of the company's site in Burma Road, Hull that took place throughout 2016.
The Dutch company, who specialise in the transportation of abnormal loads and vehicles, had originally set up their UK base in 2001 in Blyth, Northumberland, but moved to the Hull site in 2012 after six years of searching for new premises. The Hull site was chosen due to its proximity to the Humber Port which allowed Van der Vlist to expand on its' continental transportation potential.
The Challenge
As with any transportation hub, the main challenge was the prevention of paver destabilisation, through loss of jointing sand, brought about by the consistent use of the car park by employees. Also, while primarily a car park, the chances of heavy duty traffic would serve to increase the rate of paver destabilisation.
The Solution
Resiblock '22' was selected following consultations between Resiblock, Keyline (Hull) and Contractors Wright Civil Engineers. The previous success of Resiblock '22' at Port of Salalah, Oman, played a significant role in the selection of Resiblock '22' for this transporter base. Port of Salalah, much like the Van der Vlist site, expected large, regular volumes of traffic, with sand loss and paver destabilisation being a major concern.
Benefits at a Glance:
One pack material
Easy application
Prevents sand erosion from paver joint
Prevents the ingress of water and fuel infiltration to the sand laying course
Maintains structural stability under heavy duty trafficking
Elastomeric bond works in tandem with paver system
Case Study
Project name: Van Der Vlist Car Park
Client: Van Der Vlist
Contractor: Wright Civil Engineering
Site: Transportation Hub Car Park
Area: 250M²
Product/s: Resiblock '22'
Date: March 2017