Style Home Improvements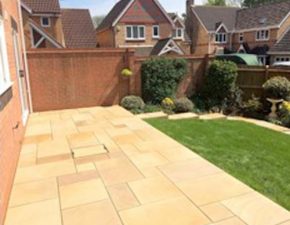 Since its debut in 2012, Resiblock have been proud to present and sponsor the Resiblock Installer of the Year award at the Annual Brett Paving Awards.
The 2016 winner was Tony Bogusz of Style Home Improvements for this wonderful piece of sealing work. Tony used Resiblock Indian Sandstone Sealer Colour Enhancer to perfection to draw out the wonderful colours of this Indian Sandstone Patio and Pathway.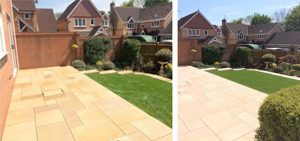 On the award victory, and the sealing works in general, Managing Director Paul Lamparter said: "We are delighted that Resiblock has once again been invited to attend, exhibit and sponsor an award at the prestigious 5th Annual Brett Landscaping Awards.
"I would like to pass on a special congratulation to Tony Bogusz at Style Home Improvements Ltd, for winning the Brett Best Resiblock Installer 2016 award.
"This is an outstanding piece of work and really shows the beautiful colours that are found in Indian Sandstone Slabs. This really is the perfect application of our Resiblock Indian Sandstone Sealer Colour Enhancer.