Stourton Park & Ride, Leeds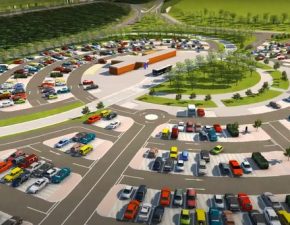 The Site
As part of the Leeds Public Transport Investment Programme, Stourton was chosen to be the site for a new Park & Ride scheme in Leeds, with spaces for over 1,200 cars. The venture was also part of Leeds City Councils vision to reduce traffic carbon emissions within Leeds City Centre. The technological highlights of the site included Stourton Park & Ride laying claim to being the first completely solar-powered Park & Ride in the UK as well as being serviced by a fleet of all-electric buses.
The Challenge
Alongside a maximum parking capacity of circa 1,200 vehicles, Stourton Park & Ride would see more than 50 bus journeys per day travelling to Leeds City Centre. With Concrete Block Paving being used for both the Car Parking spaces and surrounding the bus pick up and drop off points, Leeds City Council required a solution that would prevent the block paving from failing under both large volumes and heavy vehicular traffic.
The Solution
Resiblock, and the 'Legendary' Resiblock '22' product, were able to show Leeds City Council over a decade's worth of successful sealing solutions at both Park & Ride schemes and Bus Stations up and down the country. From Southend-on-Sea Bus Station to Pool Meadow Station in Coventry, via Martlesham Park & Ride Scheme, Resiblock were able to show how a simple application of Resiblock '22' would stabilise sand joints to prevent jointing loss and ultimately prevent paving failure under both large volumes and heavy vehicular traffic.
Benefits at a Glance:
One pack material
Easy application
Prevents sand erosion from paver joint
Prevents the ingress of water and fuel infiltration to the sand laying course
Maintains structural stability under heavy duty trafficking
Elastomeric bond works in tandem with paver system
Case Study
Project name: Stourton Park & Ride, Leeds
Client: Leeds City Council
Contractor: BAM Nuttalls
Site: Stourton Park & Ride, Leeds
Project: Stourton Park & Ride
Area: 8,500m²
Paver type: Concrete Block Paving
Product/s: Resiblock '22'
Date: August 2021