Station Street, Burton-upon-Trent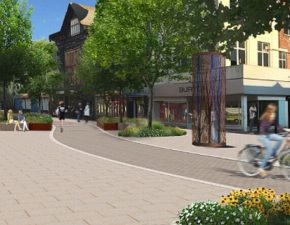 The Site:
The £1.4 million Station Street Project forms one-third of the overall East Staffordshire Regeneration Scheme. The scheme was designed by Staffordshire County Council to help modernise public realm of areas, which in turn would help drive economic growth through increased footfall traffic in the retail sector. The roadway of the Station Street project was given a 'flowing design', to replicate the look of the nearby River Trent and help define pedestrianised spaces from delivery vehicle routes.
The Challenge:
During conversations with Amey Consultancy, the client expressed a desire to ensure that a sealer was used on the new textured pavers which would safeguard against paver destabilisation and reduce future maintenance costs.
The Solution:
Staffordshire County Council did not have to look far for their sealing solution, with Resiblock having been successfully been used at the world-renowned FA Academy at St Georges Park. Resiblock were able to show through Case Study history the success of Resiblock '22' AF, which has stabilised and protected paving throughout the UK ensuring Asset Protection for Local Authorities across Great Britain.
Benefits at a Glance:
Single component – fast cure, ensures rapid re-use of the facility
Significantly reduces staining by food and drink
Virtually eliminates residual staining by chewing gum oils
Stabilises jointing sand and inhibits the growth of weeds and grass in joints
Maintains performance life of pavement
Case Study
Project name: Station Street, Burton-upon-Trent
Client: Staffordshire County Council
Contractor: Amey Group
Site: Station Street, Burton
Project: Station Street Project
Area: 2,780m²
Paver type: Charcon Andover Blocks & Charcon Appalchian Slabs
Product/s: Resiblock 22AF
Date: October 2020