St Davids '2', Cardiff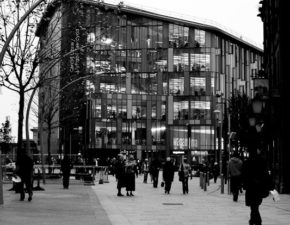 Problem:
St David's 2 breathed life into a previously underused area of Cardiff, transforming it into a unique and exciting retail experience which caters to the needs of the 21st century shopper. As St David's 2 is such a well traversed area, seeing a huge amount of foot trafficking and staining, Dylan Thompson wanted to protect the paving at all costs, in an environmentally friendly way, whilst also protecting the sand in the joints from being swept away during rainfall and cleaning.
Solution:
Resiblock had the perfect product for Dylan Thompson to use, Resiblock Resiecco. Resiecco is a solvent free sealant that can be used on external and internal paving which seals both the blocks and the joints. Resiecco was applied to the paving by the on-site contractors, Skanska, leaving the paving looking as fresh and new as the day it was laid.
Benefits:
Once the Resiecco was applied, using a two coat system, the joints were sealed completely (completely stopping the sand from being washed away during rainfall or cleaning, but still leaving the joints with the same flexibility) and the paving was protected from all types of staining. The application of Resiecco reduced the need for cleaning the paving dramatically.
Case Study
Project name: St Davids '2', Cardiff
Client: Dylan Thompson
Contractor: Skanska
Site: St Davids, Cardiff
Project: St Davids '2'
Area: High Street
Paver type: Concrete Block Paving & Concrete Slabs
Product/s: Resiblock Resiecco
Date: July 2010