Sizewell B Nuclear Power Station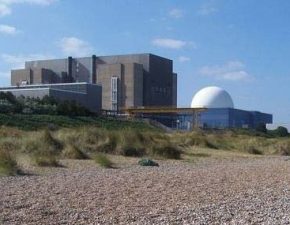 Site:
Sizewell B Nuclear Power Station located on the East Anglia Coast was built between 1988 & 1995 and is the UK's newest. It is capable of supplying over 2.5m homes, equivalent to the domestic needs of the counties of Suffolk & Norfolk. Around 1,000 people are employed at the station and the extended secure staff entrance incorporated new permeable paving.
Challenge:
The project consultants Parsons Brinkerhoff were concerned about aggregate joint loss from cleaning regimes and the penetration of ladies heels (potential tripping hazard). Additionally they wanted to incorporate a standard paving flag into the permeable paving design.
Solutions:
Resiblock were able to resolve these issues with two innovative products and post a consultation phase they were incorporated into the design specification. Resiblock Envirofix is a solvent free aggregate binder that will not adversely impede the water flow. In addition it will seal the paver units thus providing long-term stain protection. Sudsflow spacers provide an exact joint width between blocks & flags thereby allowing most modular paving to be incorporated into a permeable paving system.
Bonds the jointing aggregate but does not adversely impede water drainage
Prevents aggregate extraction (from cleaning regimes) & penetration
Additionally provides long-term stain protection to the pavers
Sudsflow Benefits:
Specification not limited to purpose-made permeable pavers
Designed to allow rain water flow at the same rate as unpaved ground
Compressive strength equal to the nibs on purpose made permeable pavers
Manufactured to comply with the Flood & Water Management Act 2010
Case Study
Project name: Sizewell B Nuclear Power Station
Client: EDF Energy
Contractor: Essex Dev. & Const. Ltd.
Site: Sizewell B Nuclear Power Station
Project: Sizewell B Nuclear Power Station
Area: 400m²
Paver type: Standard Flags (600x600)
Product/s: Resiblock Envirofix
Date: September 2017