Sealing Technique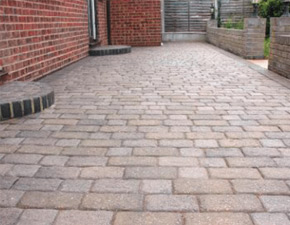 "The Paving expert wasn't lying when he said Resiblock '22' is 'Legendary', he's right It's bloody brilliant !"
This sealed Concrete Block Patio from Lionel Coulson of Sealing Technique was the winner of our 2016 Resiblock Sealing Awards Best Patio.
Lionel had used Resiblock '22' to help stabilise the sand joints to prevent paver destabilisation and severe weed growth (as seen in the before picture).
The use of the Resiblock '22' poduct also gives a natural matt finish which is exactly the aesthetic appearance that the customer was looking for.
On this particular piece of sealing work, Managing Director Paul Lamparter said: "As one of our most long-standing Resiblock Registered Contractors its great to see Lionel keep doing great work. We felt this was another fine piece of work from Lionel and his men, and really shows why he has been a Resiblock Registered Contactor for well over 15 years.
Case Study
Project name: Sealing Technique
Client: Sealing Technique
Paver type: Cobbled Concrete Blocks
Product/s: Resiblock '22'
Date: September 2016