Sainsburys Grantham/ Worcester/ Waterlooville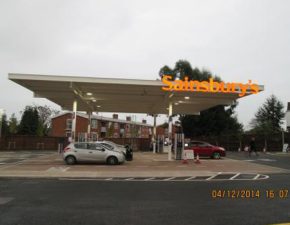 The Site:
Leading food retailer, Sainsburys care about quality and put "customers at the heart of everything" they do. Which is why they have they have chosen Resiblock ′22′ for the sealing of their three new petrol stations.
The Challenge:
These busy Supermarket Petrol Stations receive heavy traffic on a daily basis. Over time the continuous use of vehicle and pedestrian trafficking contribute to sand erosion from the paver forecourt joints resulting in paver de-stabilisation and fuel infiltration from spills and splashes.
Solution:
Resiblock ′22′ was developed to stabilise the jointing sand within small element flexibly laid paving at aircraft aprons. Its simplistic application will prevent water and fuel infiltration via the joint whilst preventing sand erosion in turn promoting good interlock within the system, preventing paving failures i.e. rutting and deformation from heavy duty trafficking.
Benefits:
One pack material
Prevents sand erosion from paver joint
Prevents the ingress of water and fuel spillage to sand laying course
Maintains structural stability under heavy duty trafficking
Elastomeric bond works in tandem with paver system
Case Study
Project name: Sainsburys Grantham/ Worcester/ Waterlooville
Client: William Southern
Contractor: William Southern
Site: Sainsbury's Grantham/Worcester/Waterlooville
Project: Sainsbury Petrol Stations
Area: 550m²/270m²/350m²
Paver type: Concrete Block Paving
Product/s: Resiblock '22'
Date: December 2014