Pro Aggy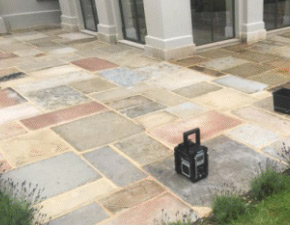 Shortly after becoming a Resiblock Registered Contractor, Pro Aggy (run by Aggy Kuklis) contacted us with regards to this project, where his customer was looking to enhance the colours of an array of different paving types.
As such, we suggested to Aggy about the use of our Commercial grade product Resiblock Ultra Matt. As our flagship product, Resiblock Ultra Matt is suitable for all types of paving and provides colour enhancement as well as a high level of UV resistance.

The simplicity of only applying one product to the differing areas really appealed to Aggy, and as such he went straight ahead and purchased the necessary amount for 800m² of Marshalls DriveSett Argent (Top Right and Top Middle), 400m² of Yorkstone (Bottom Middle) and 400m² of French Limestone (Bottom Right).
Following completion of the sealing works, Aggy contacted us to say that both he and his customer were delighted with the finish that the Resiblock Ultra Matt had achieved, and very kindly sent in these photographs to show the progression and finish of the project.
Case Study
Project name: Pro Aggy
Client: Pro Aggy
Area: 1600
Paver type: Marshalls DriveSett Argent (Mixed Sizes) Yorkstone Slabs (Various Sizes) & French Limestone Slabs (Various Sizes)
Product/s: Resiblock Ultra Matt
Date: December 2017