Olympic Way, Wembley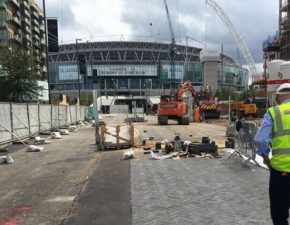 The Site:
More affectionately known as 'Wembley Way', Olympic Way leading to Wembley Stadium has become a staple part of any visitors' journey to 'The Home of Football'. Trailing from Wembley Park tube station to the gates of Wembley Stadium, Olympic Way was constructed through the labour of German POW as part of preparations for the 1948 Olympic Games in London. Now, Olympic Way is synonymous with famous television images of opposition fans walking side by side as anticipation builds around The FA Cup Final.
The Challenge:
With many large-scale events occurring throughout the year, including the aforementioned FA Cup Final which attracts close to 90,000 people in a single afternoon, joint stabilisation to prevent paving failure was a key challenge that faced Volker Fitzpatrick. Furthermore, with a variety of bars and restaurants surrounding the Olympic Way site, Architects Dixon Jones and Volker Fitzpatrick were keen to ensure protection against staining, in particular food and grease stains.
The Solution:
Two sealers from the Resiblock Commercial range were identified, to cater for sealing a trio of different pavers types on Olympic Way at Wembley Stadium. Resiblock '22' was selected to prevent paver destabilisation of both the 1430m² of Marshall Tegula Concrete Blocks and 1710m² of Ketley Blue Clay Blocks. Meanwhile, Resiblock '22' A.F (Architectural Finish) was chosen for the 788m² of Marshalls Tarvos Granite Blocks for its high level of stain protection and UV resistance.
Benefits at a Glance:
One pack material
Easy application
Prevents sand erosion from paver joint
Prevents the ingress of water and fuel infiltration to the sand laying course
Maintains structural stability under heavy duty trafficking
Elastomeric bond works in tandem with paver system
Case Study
Project name: Olympic Way, Wembley
Client: Volker Fitzpatrick
Contractor: Lorclon
Site: Olympic Way, Wembley Stadium
Project: Olympic Way, Wembley
Area: 3,928m2
Paver type: Marshall Tegula CBP, Ketley Blue Clay Blocks, Marshalls Tarvos Granite Blocks
Product/s: Resiblock '22' | Resiblock 22AF
Date: July 2017