New England Homezone Peterborough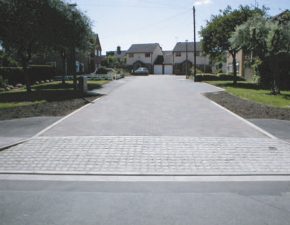 Problem:
This busy residential area in Peterborough is heavily trafficked by local vehicles as well as forming part of a bus route.
A traffic calming scheme was put into place which involved the implementation of speed humps utilising Marshall's Tegula concrete block paving. Over time, the continuous use of heavy vehicles over these humps would contribute to the cause of sand erosion resulting in paver de-stabilisation and eventual pavement failure.
Solution:
Resiblock Limited advised Peterborough Council that installing Resiblock '22' at the point of construction would eliminate these problems, by permanently locking in the jointing sand and preventing it's erosion.
Resiblock worked with the contractors May Gurney who installed 3,000 m2 of paving using Resiblock '22' in Februaury 2002 with the minimum of fuss. The material is applied to the surface and joints of the blocks with a watering can and the surplus removed with a squeegee.
Benefits:
Resiblock '22' is a specialist prepolymer urethane (SPPU) which prevents the erosion of jointing sand. The areas sealed were completed in controlled sections in a few hours and traffic was reinstated shortly afterwards, ensuring minimum disruption to residents.
Case Study
Project name: New England Homezone Peterborough
Client: Peterborough Council
Contractor: May Gurney
Site: New England Homezone, Peterborough
Project: New Engalnd Traffic Calming Scheme
Area: 3,000m²
Paver type: Marshalls Tegula
Product/s: Resiblock '22'
Date: February 2002