McDonalds Thirsk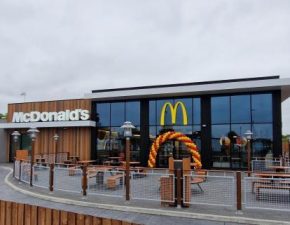 The Site
As part of the A19 development plan, McDonalds have opened a new restaurant in the North Yorkshire town of Thirsk which will create around 80 new jobs for the area. The restaurant is part of a £7m scheme for the area around York Road, Thirsk which will also see chains of Budgens and Greggs on site, as well as a service station and EV charging stations.
The Challenge
As with all new McDonalds restaurants, the Thirsk site utilises a Drive-Thru and a large outdoor patio area, all of which enjoys the benefits of Concrete Block Paving. However, large volumes of both footfall and vehicular traffic are contributory factors to jointing loss, which is the main cause of paver destabilisation and ultimately paving failure.
The Solution
McDonalds and Contractors Lynx Construction needed only to look to their past projects to ensure asset protection, as the two had previously sought advice from Resiblock when attempting to prevent the same issues occurring in East Belfast, Northern Ireland. Upon revisiting that site, Resiblock '22' had shown in the years since its application its ability to stabilise jointing sand even under the weight of large volumes of vehicular traffic, ensuring the paving has remained protected. Resiblock '22' had also been utilised during the post COVID-19 period at a trio of McDonalds sites in Scotland (Falkirk, Glasgow and Stirling), further enhancing Resiblock's reputation of providing joint stabilisation solutions.
Resiblock '22' comes with the added benefit of stain protection, which was vital for the client in their aim of protecting the paving from food, drink and potential oil spills. 
Benefits at a Glance:
One pack material
Easy application
Prevents sand erosion from paver joint
Prevents the ingress of water and fuel infiltration to the sand laying course
Maintains structural stability under heavy duty trafficking
Elastomeric bond works in tandem with paver system
Case Study
Project name: McDonalds Thirsk
Client: McDonalds
Contractor: Lynx Construction
Site: McDonalds - York Road, Thirsk
Project: McDonalds Thirsk
Area: 8,00m²
Paver type: Marshalls Keyblock 200x100
Product/s: Resiblock '22'
Date: July 2023