McDonalds, East Belfast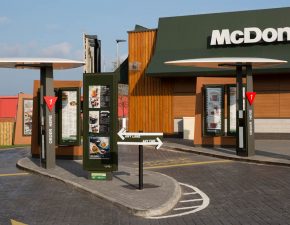 The Site
Situated just a stone throw away from Belfast City Airport, McDonalds at Knocknagoney becomes the first two-storey McDonalds to be built in Northern Ireland. The fast-food outlet, which is accompanied by a dual drive-thru, was developed inside the existing Tesco Car Park becoming the 30th McDonalds in the country.
The Challenge
As part of the planning of the restaurant, the client instructed Contractors Lynx Construction to come up with a solution that would not only prevent the block paved drive-thru from destabilising, but also prevent staining from foods in both this area, and on the pedestrian footways.
The Solution
Following consultation with the client, the specification for Resiblock '22' was soon made. Resiblock 22 is a specialist pre-polymer urethane sealer; designed to enhance and maintain structural integrity of flexibly laid small element paving. It also prevents the erosion of jointing sand, whether that be general trafficking, pressure washing or vacuum sweeping. The block paving sealant also helps to render the modular paving joints completely impervious to water, thereby ensuring structural integrity for a long period of time.
Resiblock '22' comes with the added benefit of stain protection, which was vital for the client in their aim of protecting the paving from food, drink and potential oil spills.
Benefits at a Glance:
One pack material
Easy application
Prevents sand erosion from paver joint
Prevents the ingress of water and fuel                                                   infiltration to the sand laying course
Maintains structural stability under heavy duty trafficking
Elastomeric bond works in tandem with paver system
Case Study
Project name: McDonalds, East Belfast
Client: McDonalds
Contractor: Lynx Construction
Site: McDonalds, Knocknagoney, Belfast
Project: McDonalds, East Belfast
Area: 290m
Paver type: Marshall Keyblock 200mm X 100mm
Product/s: Resiblock '22'
Date: January 2021