Linmere, Houghton Regis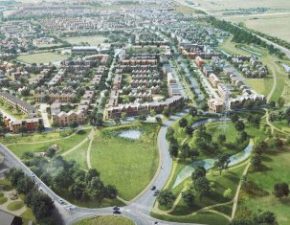 The Site
 Over the next 15 years, Linmere will deliver an extension to Houghton Regis of 5,150 homes of a wide range of type, style, character and tenure.  Linmere will also deliver three state-of-the-art primary schools, exciting retail, leisure, healthcare and entertainment offerings along with excellent employment opportunities for new and existing residents alike.
The Challenge
With a selection of new homes, new employment opportunities and a high number of phases in the development, both the client and contractors were keen to ensure that the installed paving would be able to handle all possible causes of paving degradation and failure. From high volumes of vehicular and footfall traffic to the requirement of handling heavy duty vehicles, Linmere was in need of a solution that could handle any challenge.
The Solution
The best of the best of the Commercial Range, Resiblock Ultra Matt was specified for use on site and has been used through the early phases of this development. Having been used at the 125,000m² Disneyland Hong Kong, Resiblock were to showcase how the Ultra Matt sealer was able to prevent a wide variety of potential causes for paving failure, over such a large area of mixed use paving and that this solution could provide longevity in the client's bid to provide Asset Protection.
Benefits at a Glance:
One pack material
Prevents sand erosion from paver joint
Prevents the ingress of water and fuel spillage to sand laying course
Maintains structural stability under heavy duty trafficking
Elastomeric bond works in tandem with paver system
Case Study
Project name: Linmere, Houghton Regis
Client: Houghton Regis Management Company
Contractor: Breheny Civil Engineering & Jackson Civil Engineering
Site: Linmere, Houghton Regis North
Project: Linmere, Houghton Regis
Area: Circa 3,300m²
Paver type: Mixed Paving
Product/s: Resiblock Ultra Matt
Date: January 2022