Leeds Road, Bradford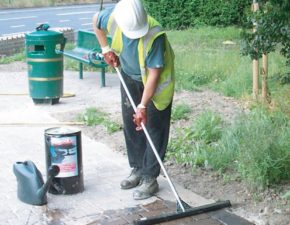 Problem:
Leeds Road is one of the main access roads in Bradford and therefore receives a high volume of pedestrian traffic. The heavy cleaning regime had contributed to the loss of sand in the paving joints resulting in paver de-stabilisation.
Solution:
Resiblock Limited advised that installing Resiblock '22' would eliminate these problems by permanently locking in the jointing sand and preventing its erosion.
Resiblock worked with contractors Bethell Construction who were running to very tight time constraints. The work needed to be completed quickly in order to minimise pedestrian and traffic disruption. This was possible as Resiblock '22' is quick and simple to install. The material is applied to the surface and joints of the blocks with a watering can and the surplus removed with a squeegee.
Benefits:
Resiblock '22' is a specialist prepolymer urethane (SPPU) which prevents the erosion of jointing sand. The areas sealed were completed in controlled sections in a few hours and traffic reinstated shortly afterwards.
Case Study
Project name: Leeds Road, Bradford
Client: Bradford Metropolitan District Council
Contractor: Bethell Construction
Site: Leeds Road, Bradford
Project: Leeds Road, Bradford
Area: Footpath Refurbishment
Paver type: Concrete Block Paving
Product/s: Resiblock '22'
Date: January 2005