Hyde Taxi Rank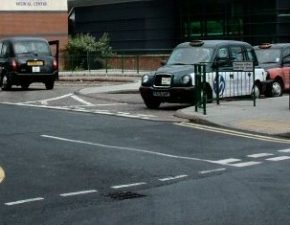 The Site
Having become one of the "famous Mill towns of the North West" during the Industrial Revolution, Hyde has also hosted the first ever floodlit football match between Manchester City and Manchester United (although in 1889 when the match was played they were known as Ardwick AFC and Newton Heath). This particular match was a charity match for the families of the Hyde Colliery, after 23 men died in an explosion at the coal mine.
The Challenge
With the area being constantly trafficked by the 'Hackney Carriages', the major concern for Tameside MBC was the potential for paver destabilisation caused by the erosion of sand joints. Furthermore, with part of the area being used by pedestrians as a waiting area, the minimalization of food and drink stains was a requirement of the council.
The Solution
Resiblock '22' was selected as the sealer for use, due to its long-term reputation and, referred to by pavingexpert.com as the "Legendary" Resiblock '22', regarded as the best paving sealer/stabiliser in the world. With previous success in preventing paving destabilisation due to sand loss caused by heavy trafficking, most notably at Heathrow Airport (the 5th busiest International Airport in the World), Resiblock were more than confident that the Resiblock '22' would be able to stand up to the weight of the daily traffic from the Taxi's at Hyde Taxi Rank.
Benefits at a Glance:
One pack material
Easy application
Prevents sand erosion from paver joint
Prevents the ingress of water and fuel infiltration to the sand laying course
Maintains structural stability under heavy duty trafficking
Elastomeric bond works in tandem with paver system
Gives resistance to food and drink stains
Case Study
Project name: Hyde Taxi Rank
Client: Tameside Metropolitan Borough Council (MBC)
Contractor: Tameside MBC Engineering Division
Site: Hyde Taxi Rank
Project: Hyde Taxi Rank
Area: Taxi Rank & Turning Area
Paver type: CBP
Product/s: Resiblock '22'
Date: June 2018