Gunwharf Quays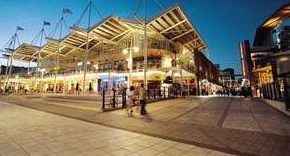 The Site
Constructed in the early part of the 21st Century, Gunwharf Quays Shopping Centre is located on the site which was once known as HM Gunwharf. HM Gunwharf one of several such facilities which were established around Britain and the Empire by the Board of Ordnance, where cannons, ammunition and other armaments were stored, repaired and serviced ready for use on land or at sea. The military site closed in 1995 and was reopened as Gunwharf Quays Shopping Centre in 2001 after six years of construction.
The Challenge
In 2018, works to extend the Plaza in Gunwharf Quays were completed using a mixture of both Granite Block Paving and Granite Slabs. The Client, Landsec, were looking for a sealer that would provide protection for both substrate of pavers, as well as sand stabilisation for the prevention of paving failure. They also hoped Resiblock would be able to provide a decorative product that would enhance the appearance of the paving.
The Solution
The best of the best of the Commercial Range, Resiblock recommended the use of Resiblock Ultra Matt for Gunwharf Quays as the product could be used on the Granite Block Paving and Granite Slabs. Used initially in 2018 for a test area of 60m² Resiblock Ultra Matt was used throughout the entire 800m² in 2019. Previously used at Disneyland Hong Kong, Resiblock Ultra has shown that it is more than capable of dealing with high amounts of footfall traffic whilst also protecting the surface of the pavers from staining. Landsec were also delighted that Resiblock Ultra Matt was able to provide a decorative Matt finish that really enhanced the colours in the Granite Pavers.
Benefits at a Glance:
One pack material
Prevents sand erosion from paver joint
Prevents the ingress of water and fuel spillage to sand laying course
Maintains structural stability under heavy duty trafficking
Elastomeric bond works in tandem with paver system
Case Study
Project name: Gunwharf Quays
Client: Landsec
Contractor: Pure Construction
Site: Gunwharf Quays, Portsmouth
Project: Gunwharf Quays
Area: 800m²
Paver type: Granite Block Paving & Granite Slabs
Product/s: Resiblock Ultra Matt
Date: September 2019