FUJIFILM Billingham BioCampus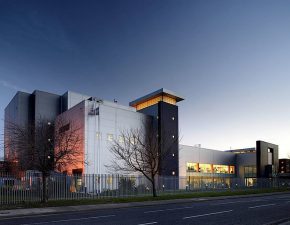 The Site:
As part of their major strategic growth plan, FUJIFILM Diosynth Biotechnologies have invested £12.6 million in the creation of a new BioCampus at their now world-renowned Billingham site in the North East of England. As an industry-leading manufacturer, with over 25 years' experience, of recombinant proteins the New BioCampus is now at the forefront of manufacturing key components of the COVID 19 Novavax Vaccine. This project forms the initial phase of an overall £43million investment in FUJIFILM.
The Challenge:
The building of the new BioCampus led to the creation of around 2,000 extra jobs at the Teesside facility. The main concern for FUJIFILM was the potential for jointing sand loss due to the increase in footfall traffic, which would ultimately lead to paving failure. With the use of 'decorative paving' on the site, the client was also keen to ensure that any sealing solution would protect the aesthetics of the paver units.
The Solution:
Resiblock were specified as the paving sealer of choice for FUJIFILM North East, and upon discovery of the use of Marshall Modal blocks (an aggregate-topped block which renders traditionally block paving sealers as ineffective) on site Resiblock were able to specify Resiblock '22' A.F (Architectural Finish). Resiblock '22' A.F was specially formulated for use on commercial sites with mixed paver units and had previously been successfully used as part of the Maidstone Public Realm scheme.
Benefits at a Glance:
Single component – fast cure, ensures rapid re-use of the facility
Significantly reduces staining by food and drink
Virtually eliminates residual staining by chewing gum oils
Stabilises jointing sand and inhibits the growth of weeds and grass in joints
Maintains performance life of pavement
Case Study
Project name: FUJIFILM Billingham BioCampus
Client: FUJIFILM Diosynth Technologies
Contractor: Hewitson Ltd
Site: FUJIFILM Billingham
Project: FUJIFILM North East - Billingham
Area: 4,463m²
Paver type: Marshall Modal
Product/s: Resiblock 22AF
Date: May 2021