FA Academy, St George's Park – 10th Anniversary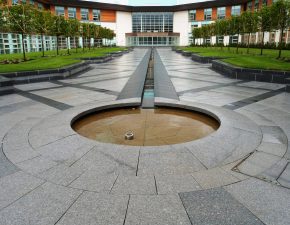 Challenge:
Back in 2012, The F.A.'s 330-acre, £100 million National Football Centre Burton on Trent known as St. Georges Park was opened by The Duke and Duchess of Cambridge. During construction it was anticipated by the client and main contractor that cleaning regimes would serve to remove the jointing sand leading to de-stabilisation of the paving and tripping accidents. Following site trials Resiblock Resifix Commerical was specified.
Solution:
Resiblock Resifix Commercial was installed by the main contractor Murraywood Contruction Ltd for the stabilisation of the paving against various cleaning regimes, jet washing and vacuum sweeping. Resiblock's team of technicians worked closely with Murraywood Construction and the subcontractor G-Force in connection with the installation of Resiblock Resifix Commercial to the entire 8,000m² of external paving. It has now been 10 years since the installation of Resifix Commercial, with the site continuing to withstand footfall traffic from teams across the globe. The site also continues to benefit from stabilised joints which has reduced maintenance costs for the decade that the site has been opened.
Benefits:
Resiblock Resifix Commercial, sweeps in like jointing sand and is activated by the addition of water.  Once cured it forms a flexible bond within the joint, preventing erosion of the jointing medium from both natural elements and manmade cleaning regimes.
Benefits at a Glance:
One pack material
Inhibits the growth of weeds and grass in joints
Sweeps in like jointing sand
Simply activate with the addition of water
10 times faster to install than traditional pointing methods
No effect on the colour of the paving
Environmentally friendly
Case Study
Project name: FA Academy, St George's Park – 10th Anniversary
Client: The Football Association (FA)
Contractor: Murraywood Construction
Site: St Georges Park, Burton-on-Trent
Project: The FA Academy, National Football Centre
Area: 8,000m²
Paver type: Chinese Granite Setts
Product/s: Resifix Commercial
Date: October 2022