Edenbrook Village, Berkeley Homes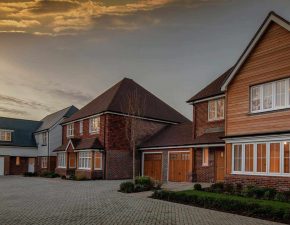 The Site
With a variety of 2,3,4 and 5 Bedroom Houses, Edenbrook Village is the latest Housing Development created by Berkeley. Located just two miles from the sought-after town of Fleet, the community benefits from an 82-acre country park, a brand-new leisure centre, sports pitches, BMX track and other recreational facilities.
The Challenge
With Marshall Keyblock Concrete Block Paving being used on driveways of all 600 homes at Edenbrook Village, concerns were raised by Berkely around the long-term protection of the pavers from the accompanying vehicular traffic. As such investigations were made as to how the site could maintain long-term asset protection.
The Solution
Berkley Homes did not have to look far for a solution to their concerns as Resiblock, and the 'Legendary' Resiblock '22' product had been successful installed just an hour away at the Pennyfarthing Homes site of Alexandra Meadows in Lymington. Resiblock '22' traces its use on Housing Developments back to 2004 where it was used at the Rialto Homes site in Barking. Resiblock '22' effectiveness in preventing paving failure by stabilising jointing sand from the effects of vehicular and footfall traffic, has led the product to being used on Concrete Block Paving at sites around the world.
Benefits at a Glance:
One pack material
Easy application
Prevents sand erosion from paver joint
Prevents the ingress of water and fuel infiltration to the sand laying course
Maintains structural stability under heavy duty trafficking
Elastomeric bond works in tandem with paver system
Case Study
Project name: Edenbrook Village, Berkeley Homes
Client: Berkeley Homes
Contractor: O'Halloran & O'Brien
Site: Edenbrook Village, Fleet, Hampshire
Project: Edenbrook Village
Area: 1,500m²
Paver type: Marshall Keyblock 200m x 100mm
Product/s: Resiblock '22'
Date: November 2021