East Leeds Orbital Route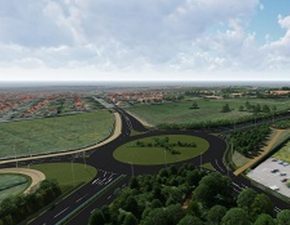 The Site
The Leeds East Orbital Route is a key part of the overall East Leeds Expansion plan, which sees Leeds City Council attempt to create a strategic major economic growth area for the city as a whole. The plans saw initial phases upgrade both highways and pedestrian areas on the A1620 Outer Ring Road, before phase 3 saw the design and installation of 7km of highways to link the existing Orbital Ring Road at Red Hall to Thorpe Park Junction 46 of the M1.
The Challenge
As part of Phase 3 of the Leeds East Orbital Route, new pedestrian, equestrian and cycling infrastructure was built to help aid the future development of the East Leeds Extension, which will see both new housing and employment land developed. Leeds City Council were keen to ensure long-term protection of the newly paved areas, especially against expected future growth of footfall traffic.
The Solution
Leeds City Council had worked closely in conjunction with Resiblock over the previous 18 months to help provide long-term asset protection at Park and Ride Schemes in both Stourton and Leeds Temple Green. As such, they knew they could place their trust in Resiblock for continuing long-term paver protection and prevention against factors, such as large volumes of pedestrian traffic, that would lead to paver destabilisation.
Benefits at a Glance:
One pack material
Easy application
Prevents sand erosion from paver joint
Prevents the ingress of water and fuel infiltration to the sand laying course
Maintains structural stability under heavy duty trafficking
Elastomeric bond works in tandem with paver system
Case Study
Project name: East Leeds Orbital Route
Client: Leeds City Council
Contractor: Balfour Beatty
Site: East Leeds Orbital Route, Leeds
Project: East Leeds Orbital Route
Area: 1,500m²
Paver type: Concrete Block Paving
Product/s: Resiblock '22'
Date: June 2022