Durham University Strategy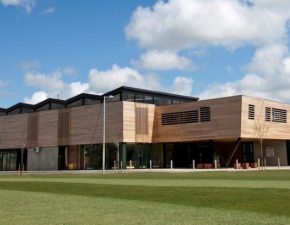 The Site
In 2017 the university announced a strategy that outlined 23 projects at a cost of 350 million pounds, which they hope to complete by 2027. This includes new departmental space, teaching space, residential accommodation and student facilities, as well as improving the condition of the existing estate. The current project is the improvement of the car park and disability bays at the university's sports center at the Maiden Castle site.
The Challenge
Serving hundreds of students on a weekly basis, cleaning regimes, heavy traffic and heavy foot quickly resulted in erosion of jointing sand in the sports centers car park.
The Solution
We recommend to the contractors, Billinghurst George & Partners, two of our Resiblock products. The first product, Envirofix is a one pack solvent free polyurethane/acrylic hybrid. It incorporates a unique hydrophilic bonding agent which allows the aggregate to be bonded whilst not adversely impeding the design of free draining.
The second product, Resiblock 22 is a specialist pre-polymer urethane sealer; designed to enhance and maintain structural integrity of flexibly laid small element paving. It also prevents the erosion of jointing sand, whether that be general trafficking, pressure washing or vacuum sweeping. The block paving sealant also helps to render the modular paving joints completely impervious to water, thereby ensuring structural integrity for a long period of time.
Benefits at a Glance:
One pack material
Easy application
Prevents sand erosion from paver joint
Prevents the ingress of water and fuel infiltration to the sand laying course
Maintains structural stability under heavy duty trafficking
Elastomeric bond works in tandem with paver system
Case Study
Project name: Durham University Strategy
Client: Durham University
Contractor: Billinghurst George & Partners
Site: Durham University, Graham Sports Centre, Maiden Castle Site
Project: Durham University Strategy
Area: 2,000m²
Paver type: Marshalls Prior & Myriad Paving
Product/s: Resiblock '22' | Resiblock Envirofix (25L)
Date: November 2020