DM Crombie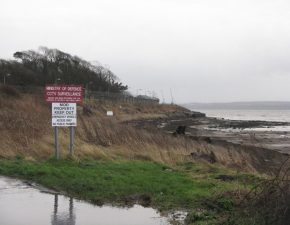 The Site
Defence Munitions Crombie is a military munitions depot on the upper Firth of Forth in West Fife, Scotland.  DM Crombie formerly served as the primary munitions depot for Rosyth Naval Yard, which is 3 miles (5 km) down-river of the depot. Since the naval yard's closure, DM Crombie has been retained primarily as a loading/unloading facility for naval vessels and the storage and maintenance of the Royal Air Force's air launched weapons. It is now operated as part of the UK's Defence Storage and Distribution Agency.
The Challenge
With such heavy-duty vehicles being operated on site, DM Crombie required a sealant that would prevent paver destabilisation, which would occur through paver movement and loss of jointing sand, caused by the weight of the vehicles. Furthermore, with the site being on a river, there was a key concern around loss of sand caused by the wash-over from the river. The final challenge was a prevention of fuel infiltration.
The Solution
Resiblock '22' was the recommended sealant for this Ministry of Defence Base. This polyurethane product stabilises sand joints to prevent sand loss from wash over and mechanical cleaning regimes, but still allows for the small elastic deflections which is required to ensure the paving does not fail under the weight of heavy duty traffic. Resiblock '22' was also recommended as a second coat of this product prevents fuel infiltration, and has been successfully used at petrol forecourts.
Benefits at a Glance:
One pack material
Easy application
Prevents sand erosion from paver joint
Prevents the ingress of water and fuel infiltration to the sand laying course
Maintains structural stability under heavy duty trafficking
Elastomeric bond works in tandem with paver system
Case Study
Project name: DM Crombie
Client: Carillion Amey, for the Ministry of Defence
Contractor: Bell Group
Site: Defence Munitions Crombie, West Fife, Scotland
Project: DM Crombie
Area: Refurbished Paving Area
Paver type: Concrete Block Paving
Product/s: Resiblock '22'
Date: June 2018