Dangoor Plaza, Imperial College London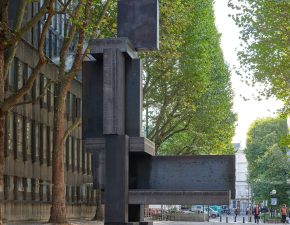 The Site
As part of the South Kensington Masterplan, the new Dangoor Plaza and Queen's Lawn area, A gift from the Dangoor family, will create over 250 square metres of extra green space. The revitalised area will include new landscaping and space for a new piece of iconic sculptural art. The artwork itself is to be created by Anthony Gormley, the world-renowned artist who is famous for his iconic sculpture of The Angel of The North, will feature a 6m-high production of stacked and cantilevered blocks of weathering steel to evoke the human form.
Problem
Concerns were raised by Architects Penwarden Hale that the natural weathering of the steel structure would lead to staining and rusting of the pavers that would surround the artwork. Furthermore, with the sculpture set to form the focal point of the South Kensington Campus, the possibility of joint destabilisation caused by high volumes of footfall traffic were also raised, by both the architects and the client.
Solution
Following consultations between Penwarden Hale and Resiblock, Resiblock Resiecco was specified to provide both joint stabilisation and long-term stain resistance against rust.
Benefits
Stabilisation of the joint notwithstanding cleaning regimes and trafficking whilst imparting the following additional benefits:
Prevents jointing loss from cleaning regimes & heavy footfall
Significantly reduces staining by food and drink
Virtually eliminates residual staining by chewing gum oils
Inhibits the growth of weeds and grass in joints
Environmentally friendly – solvent free
Case Study
Project name: Dangoor Plaza, Imperial College London
Client: Imperial College London
Contractor: Russell Cawberry
Site: Dangoor Plaza, Imperial College London, South Kensington
Project: Anthony Gormley Statue - ALERT
Area: Area Surrounding Statue
Paver type: Concrete Block Paving
Product/s: Resiblock Resiecco
Date: December 2022