Clearwater Way, Lakeside Shopping Centre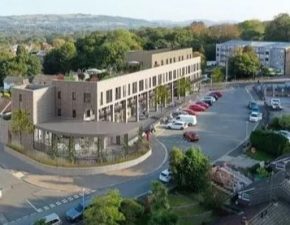 The Site:
Clearwater Way forms part of a £4,000,000 redevelopment package at Cardiff's Lakeside Shopping Parade. The package is set to revitalise part of Cardiff's shopping hub, with a first redevelopment of Lakeside Shopping Parade since its initial construction in the 1960's.
As part of the plans, paving on Clearwater Way is set to be replaced, while an expansion of the covered walkway is set to be constructed to improve shopping experience and help with the installation of new shopping outlets.
The Challenge:
Client Silver Crescent Developments were keen to ensure that the anticipated rise in footfall traffic would not lead to paver destabilisation caused by joint loss. There were also secondary concerns of jointing loss from the use of vacuum sweepers as part of the sites cleaning regimes.
The Solution:
Following consultations with Silver Crescent, Resiblock '22' A.F was ultimately specified for use on site at Clearwater Way. Resiblock were able to showcase previous successes of the '22' A.F product in shopping centre environments, following the use of the product at Guildhall Shopping Centre and Maidstone Public Realm, which left the client with no doubts that Resiblock were the sealing solution to use to ensure asset protection and a reduction in whole life costs.
Benefits at a Glance:
Single component – fast cure, ensures rapid re-use of the facility
Significantly reduces staining by food and drink
Virtually eliminates residual staining by chewing gum oils
Stabilises jointing sand and inhibits the growth of weeds and grass in joints
Maintains performance life of pavement
Case Study
Project name: Clearwater Way, Lakeside Shopping Centre
Client: Silver Crescent Developments
Site: Clearwater Way, Lakeside Shopping Centre
Project: Clearwater Parade, Cardiff
Area: 600m2
Paver type: Weinerberger Alder Supraton UWF Tumbled Clay 200x50mm
Product/s: Resiblock 22AF
Date: June 2023