Castlepoint Shopping Centre Continuation Works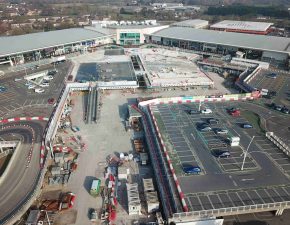 The Site
Castlepoint Shopping Centre in Bournemouth occupies a 41-arce site, opened to the public in October 2003, following major redevelopment of the site which had previously been occupied by The Hampshire Centre.
The Challenge
Since 2018, redevelopment and reparation works had been carried out across the entirety of the Castlepoint Shopping Centre site. The 6 phases are set to be complete over 5 years. With the potential for higher volumes of footfall and vehicular traffic, the Shopping Centre were keen to ensure that new areas of CBP wouldn't require consistent reparation works.
The Solution
Resiblock Resiecco had been originally used on the site in 2015 to provide initial sealing works to the CBP areas in the Car Parks, to prevent jointing sand erosion and paver destabilisation. The newly expanded walkways and repaired car parks were the subjected to the same sealing works as the initial 2015 paved areas to ensure long-term asset protection for the car park.
The Benefits
Resiblock Resiecco is a one pack material, it is broadcast over the surface of the paving with simplistic tools and does not require any specialist labour.  It will bind the paver jointing sand preventing its erosion from trafficking, natural elements and manmade cleaning regimes.
Benefits at a Glance
Prevents joint sand loss from cleaning regimes
Significantly reduces staining by food and drink
Virtually eliminates residual staining of chewing gum oils.
Inhibits the growth of weeds and grass in the joints
Solvent-free, environmentally-friendly
Case Study
Project name: Castlepoint Shopping Centre Continuation Works
Client: Castle Point Shopping
Contractor: Kier Construction
Site: Castle Point Shopping Centre
Project: Castle Point Shopping Centre Reparation Works
Area: 1,250m²
Paver type: Concrete Block Paving
Product/s: Resiblock Resiecco
Date: August 2022