Bridgefield Street Pedestrianisation, Stockport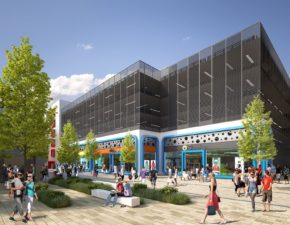 The Site
As part of the £45million Redrock Leisure Development Scheme, the pedestrianisation of Bridgefield Street formed a key part of the major developments of Stockport Town Centre. The works at the Bridgefield Street site began in January 2015, and was recently re-opened following the completion of the installation of Resiblock Resiecco.
Councillor Patrick McAuley, the Council's executive member for Economic Development and Regeneration, said: "This is a very exciting time for Stockport, developments such as these help our ambition of putting Stockport on the map to bring more people to work, shop and socialise here."
The Challenge
The major development of Stockport Town Centre was expected to bring an increase in footfall traffic, mainly due to the new 10-screen cinema and vast array of shops, and therefore a sealer that would prevent paver de-stabilisation was required. Also, with a vast array of restaurants and eateries on Bridgefield Street, a sealer that could give resistance against food stains was required.
The Solution
Resiblock Resiecco was specified as the Resiblock product to utilise due to its historical success at Manchester United Football Club and The 02 Arena, where concerns regarding high level of footfall traffic and paver stability were high priority. Also, as Resiblock Resiecco is a low viscosity thermoplastic-acryl copolymer emulsion (water based acrylic), this product was able to be applied to both paver types and therefore made the sealing of Bridgefield Street much less time consuming.
Benefits at a Glance:
One pack material
Prevents sand loss from cleaning regimes
Inhibits the growth of weeds and grasses in the joints
Virtually eliminates residual staining from chewing gum
Gives resistance against food stands
Maintains structural stability
Case Study
Project name: Bridgefield Street Pedestrianisation, Stockport
Client: Stockport Metropolitan Borough Council
Contractor: George Cox & Sons
Site: Bridgefield Street, Stockport
Project: Bridgefield Street Pedestrianisation
Area: 2,000m²
Paver type: Granite Pavers – 200x100mm & Tower Sandstone Slabs 300x150mm
Product/s: Resiblock Resiecco
Date: October 2016