Bloor Homes, Didcot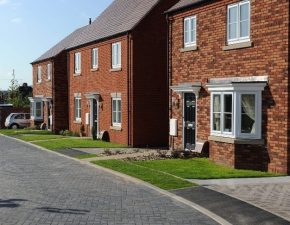 The Site
Bloor Homes development project 'The Greenway' is situated just 10 miles south of Oxford's 'Dreaming Spires', 'The Greenway' is found in the vibrant historic town of Didcot, which is seen as the world's largest hub of scientific development outside of Silicon Valley, and first opened to the public for purchasing at the start of 2015.
The Challenge
With circa 1600m² of Charcoal-coloured Concrete Block Paving installed as the roadway for this 154-home housing development, Contractors John O'Flynn Developments required a sealer that would be able to give long term protection, in terms of joint and paving stabilisation.
The Solution
Resiblock '22' was selected as the sealer for use, due to its long-term reputation and, referred to by pavingexpert.com as the "Legendary" Resiblock '22', regarded as the best paving sealer/stabiliser in the world. With previous success in preventing paving destabilisation due to sand loss caused by heavy trafficking, most notably at Heathrow Airport (the 5th busiest International Airport in the World), Resiblock were more than confident that the Resiblock '22' would be able to stand up to the weight of the daily traffic from 'The Greenway'.
Benefits at a Glance:
One pack material
Easy application
Prevents sand erosion from paver joint
Prevents the ingress of water and fuel infiltration to the sand laying course
Maintains structural stability under heavy duty trafficking
Elastomeric bond works in tandem with paver system
Case Study
Project name: Bloor Homes, Didcot
Client: Bloor Homes
Contractor: John O'Flynn Developments
Site: The Greenway
Area: 1597M²
Paver type: CBP
Product/s: Resiblock '22'
Date: April 2018