Bedford Square, Tavistock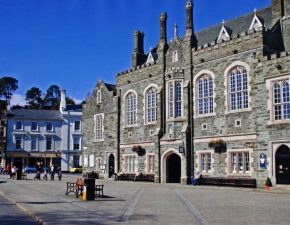 The Site:
Part of the Bedford Estates until 1911, Bedford Square has been home to Tavistock Town Hall since 1864. Designed by Edward Rundle, Architect to the 7th Duke of Bedford, Tavistock Town Hall opened on the 2nd February 1864 with a Grand Ball.
Due to radical new taxation laws in 1910, the Town Hall, along with other local buildings, passed from the 11th Duke of Bedford estate into the freehold ownership of the Town Council. Nearly a Century later and the building is still serving the community and forms the focal point of the town centre.
The Challenge:
With the installation of new pavers and the reparations of old paving, Devon County Council were looking for a sealant that could provide a uniformed finish across the entire area. Furthermore, with Bedford Square being the site of the historic Tavistock Town Hall the square is a constant hive of activity, so the prevention of previously experienced paver destabilisation, and the associated trip hazards caused by this, was also key for Engineer Richard Kingsley-Smith and his team.
The Solution:
Resiblock '22' A.F. was selected from the Resiblock range of products, suitable for all types of natural stone, for its ability to bind jointing sand so that it remains in place under the most arduous of conditions (including maintenance pressure washing, environmental elements and high volumes of pedestrian traffic). Resiblock '22' A.F. acts as an anti-detritus coating, which provides an excellent degree of stain protection from food and beverages and allows economic removal of chewing gum. It also has a high order of resistance to Ultra Violet light and allows the paver pavement to retain its normal flexural qualities. The striking, uniformed colour enhancement that Resiblock '22' A.F. provides was also a key factor in the selection of this product.
Benefits at a Glance:
• Single component – fast cure, ensures rapid re-use of the facility
• Significantly reduces staining by food and drink
• Virtually eliminates residual staining by chewing gum oils
• Stabilises jointing sand and inhibits the growth of weeds and grass in joints
• Maintains performance life of pavement
Case Study
Project name: Bedford Square, Tavistock
Client: Devon County Council
Site: Bedford Square, Tavistock
Project: Bedford Square Reparations and Installations
Area: Tavistock Town Hall
Paver type: Marshalls Appleton Yorkstone Slabs
Product/s: Resiblock 22AF
Date: June 2018