Anchorwood Bank Phase 1 & 2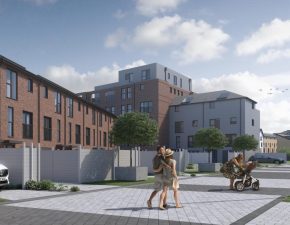 The Site
Based at the former Leaderflush Shapland 43-acre site, Anchorwood Bank is a major brownfield regeneration project that will see the development of over 170 new houses, a 60-bed hotel, restaurants and cafés, as well as leisure, employment, and community facilities.
Problem
The challenges on site were two-fold for client North Devon Homes and their appointed contractor Pearce Construction. Firstly, the main road that ran throughout the site would be subjected not only to constant vehicular traffic, but also heavy-duty vehicular traffic would be a regular occurrence on the Brett Piatto Textured Block Paving. The concern here was that this added weight could lead to joint loss and ultimately paving failure.
The second challenge was for the Western Piazza, a pedestrianised area consisting of the slab version of the Piatto Textured Pavers. With this area benefitting from multiple food and drink outlets, the concern at this part of the site was for the potential for staining and paver destabilisation from heavy footfall traffic.
Solution
In March 2019 Technical Director Paul Lamparter attended Pearce Construction head office to present Resiblock's CPD Seminar on 'The Prevention of Block Paving Failure & Long Term Stain Protection'. Following the presentation, Pearce Construction contacted Resiblock for guidance of the use of Resiblock Commercial products at the Anchorwood Bank site. Resiblock Resiecco was the product that was ultimately specified for use on site, due to its ability to prevent joint loss by providing strong interlock between pavers and provide significant stain protection against food, drink and chewing gum staining. The fact that the product could be used across both paver types was an additional benefit for Pearce Construction.
Benefits
Stabilisation of the joint notwithstanding cleaning regimes and trafficking whilst imparting the following additional benefits:
Prevents jointing loss from cleaning regimes & heavy footfall
Significantly reduces staining by food and drink
Virtually eliminates residual staining by chewing gum oils
Inhibits the growth of weeds and grass in joints
Environmentally friendly – solvent free
Case Study
Project name: Anchorwood Bank Phase 1 & 2
Client: North Devon Homes
Contractor: Pearce Construction
Site: Anchorwood Bank, Barnstaple
Project: Anchorwood Bank Phase 1 & 2
Area: Circa 2,500m²
Paver type: Brett Piatto Textured Blocks & Slabs
Product/s: Resiblock Resiecco
Date: March 2022